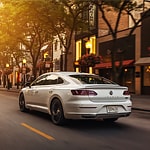 If you are on the lookout for a premium sedan that bespeaks not only style but presents a dash of fun as well, you will want to consider the new fastback on the road. The Volkswagen Arteon is taking the industry by storm and truly may be the perfect choice for you.
A primary reason why the Volkswagen Arteon is heading towards the front of the pack in its class is because of its outstanding design features. These include the generous use of LED lighting on the exterior. LED taillights, front lamps, and running lights are not only highly effective and energy-efficient, but they are designed in a brilliant manner, adding a lively touch to the car. The Volkswagen Arteon also has an iconic classic fastback design, making the car really stand out.
Learn more about the Volkswagen Arteon by taking it for a test drive. The team at Lithia Volkswagen of Reno in Reno, NV can arrange a test drive at your convenience.